Having had an early interest in natural health, I completed a course in holistic health studies and initially began working as a massage therapist and gym instructor for corporate companies.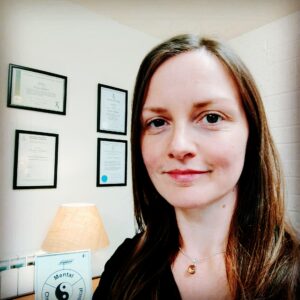 As great as it was to have those skills, I soon came to the realisation that this no longer satisfied my needs and wondering is this it? I became bored, frustrated and stuck.
I instinctively knew that for me, there was more to holistic health than what I had already learned. I wanted to find a truly holistic approach, one that could connect the physical with the nutritional, mental & emotional aspects of a person, the whole person.
I struck that balance and more when I was studying the balanced health course in systematic kinesiology with The Academy of Systematic Kinesiology in Ireland. (TASK Ireland) Using an integrated healthcare model whereby all the body's health needs are met, I learned how to connect diet & nutrition with moods & energy as well as physical symptoms.
It became clear that systematic kinesiology was what I was looking for and where I belonged. Little did I realise when I began the course that I would find the answers to my own health issues of fatigue, skin rashes, bloating, cramps & weight problems which ALL resolved soon after.
For over ten years now I happily run a busy treatment clinic using systematic kinesiology.
Prior to studying Systematic Kinesiology, I gained ITEC diplomas in anatomy and physiology, stress management, holistic massage, Indian head massage, aromatherapy & gym instruction. I also have a background in health food retail.
I am based in The Enterprise Centre, Hilly Road, Drumshanbo, Carrick-On-Shannon, Co.Leitrim by appointment only.
For any queries or an appointment you can email me; info@kinesihealth.com or call me on; 0871235689
Caroline McGrath DipAK, Dip ITEC, KZ Course instructor, ASK Ireland member.